COTC National – Tampa Florida - Conference/Seminars - 40th Anniversary Celebration
Invitation Requesting Your Participation!
COTC National Officers are arriving in the Re-Creational Vehicle "Raphael" mobile Church/Home/Office in Tampa, Florida on July 8th. Through the gracious support of Rev. Maria Antonieta Riveros-Revello, COTC National has secured a Sacred Space for Collective Prayer, Alignments and Celebration of the 40th Anniversary - TE-TA-MA Truth Foundation–Family of URI, Inc. service to God, Divine Will, the Divine Plan!!!
The COTC Conference/Seminars Invitation to Participate includes all Active COTC Ministers, previously Ordained Ministers deleted from the Active Roll, COTC Candidates for Ordination, COTC Members and/or anyone within the general public who has an interest in experiencing the Principles & Practices of Church Of The Creator.®
Requested of all Participants - Preparation:
Align to our Heavenly Father/Mother, ask, what is my part, what can I add to the Collective Vehicle, Participation, Preparation to unify with those participating? Take into prayer, ask for understanding, discernment relative the service of TE-TA-MA and COTC. Align to the words of the Sacred Mandate, the agreement Covenant & Pact activated through your signature on the document, Claiming your COTC Membership. Review, take into the heart through prayer the understanding, definitions, use, content within the Glossary of Terms. Create an account, Login as a "Registered" user.
Conference Details
When:
Saturday, July 11, 2015 6:00 pm Alignments, Introductions, Set Agenda
Alignments, Holy Harmonics, Sacred Mandate, Introductions
Sunday, July 12, 2015 9:30 am - 4:00 pm -COTC Path Seminar™
"Expand understanding of Church Of The Creator® Primary Tenets of living COTC Path as an Associate Minister. This in-depth Collective Merkabah yields understanding of Divine Commission, Sacred Covenant & Pact, COTC History, Inheritance as Ministers, Priesthood of Melchizedek, broadcasting a vibrational frequency of Divine Light, as a Beacon Calling All God's Children Home!"
Monday, July 13, 2015 9:30 am – 4:00 pm - COTC GRIDS Accord Seminar™
New configurations of unified function, "group work". In practicing the techniques of GRIDS Accord Seminar™ each participant agrees to set aside all preconceived ideas to seek collective guidance through Alignments to Divine Will. The intent is to move forward the Agenda of our Heavenly Parent, Heavenly Counterparts, what is most important within and through Office Of The Christ.
Tuesday, July 14, 2015 – 9:30 am - ? Celebration, Infusion, Fellowship
Conception ~ History of Our Blessed Church - Space of Grace - Alignments, Sharing of Guidance Received - COTC/TE-TA-MA Organization & Structure - Associate Ministers, Ordinating
Ministers - Authority & Responsibility as COTC Representatives. "
Alignments, Ask & Receive Guidance: OK I'm Ordained, now what?" "What can I do for the Highest and Greatest good of the Whole, in support of the Divine Plan?"
Where:
Reiki Shrine, Tampa, Address provided upon RSVP
Cost:
Free will contribution - Love Offering.
Take Action - RSVP your intent!
Wear comfortable clothing. Bring The Book Of Knowledge:Keys of Enoch, by J.J. Hurtak, The Holy Bible, etc.
as guided. Bring Bottled Water and Sack Lunch.
TE-TA-MA Truth Foundation – Family of URI, Inc. 40th Year Anniversary - Celebrating witness and issue of the legal Charter, by California, the United States Of America, on July 14, 2015. Four decades of living collectively the Tenets set forth and proclaimed within the Articles of Faith and Constitution, anchoring within man's law Divine Law, opening the way by example, 5th Dimensional Living, New Heavens, New Earth! Forty years is of significance within Spiritual representation and symbolism. The Spiritual significance of the Foundation/Church 40th Anniversary is unmistakable. We are burgeoning on a precipice to usher in the next echelon of Consciousness as The Priesthood of Melchizedek, amplifying "...herald, affirm, teach and sanctify". Human collective consciousness is getting ready, near "the spiritual boiling point." The number 40 represents transition or change, renewal, new beginning. The number 40 has the power to transition, uplift to a new Spiritual Estate. 40 - Consider the Historical Legacy - Examples within Human Expressions:
40 days and nights of flood waters, record of Noah, when the waters subsided, the world was purified from the licentiousness which had corrupted it.
40 years, the Israelites wandering in the wilderness, before reaching the promise land (Joshua 5:6)
40 days Moses was upon Mount Sinai, receiving, returning with the stone tablets, the Law. The Israelites arrived at Mt. Sinai as a nation of Egyptian slaves, but after 40 days they were transformed into God's nation.
40 days and nights Jesus in the wilderness for trial and testing (Luke 4:1-13)
40 represents the four sides of the world, each side containing the ten Sefirot (esoteric powers) in Kabbalah.
40 days from conception to the initial "formation" of the fetus
40 weeks of gestation until birth
The possibilities and probabilities for TE-TA-MA's 40th Anniversary Celebration are many: Fellowship, Gathering, Anointing, Receiving Gifts of the Holy Spirit AND depend upon each of us individually and collectively, to have the desire, ignite the passion, take the actions necessary through unified effort.
In Oneness of Service,
Revs. Drs. Angela Magdalene URI & James Germain

URI
COTC/TE-TA-MA
http://churchofthecreator.com
541-776-9191
July 14, 2015 is the Church/Family/Foundation's 40th Year Anniversaly of legally anchored Service to God.
"Grace House" was established in 1969 by, Grace Christna Ruth as a personal Ministry. Legally anchored in California, Chartered, "Grace House Prayer Ministry Inc." on July 14, 1975 transitioning from an individual ministery to a Collective Vehicle, California nonprofit Public Benefit Corporation. In 1976 the corporation was renamed TE-TA-MA Truth Foundation-Family Of URI, Inc. In 1978 the Foundation received recognition from the Department of Treasury, Internal Revenue Service as a 501(c)(3) tax exempt organization, a Church. In 1982 the Foundation's public expression as a Religious Organization, a Church was fruther anchored, legally establishing, as part of the Foundations Service, Church Of The Creator® through the Charter, organizational document Ecclesia Magna Charta.
[editors note: From Church Historical Archices, republished below, an article printed in Universal Life, Magazine, Summer 1974.]
"Grace House"
By Rev. Dr. Grace Marama URI, 1974 Photo fka Grace Christina Ruth
God is in Charge. lt is time to stop fighting and stop resisting.
Historical Legacy & Foundations of The Church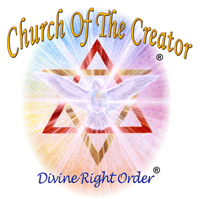 Authors: Revs. Drs. Grace Marama URI & James Germain URI, Ministerial Unit, Co-Founders, prior to Transition of Grace Marama URI March 18, 1932 - May 26, 2006.
The roots TE-TA-MA Truth Foundation - Family Of URI and Church Of The Creator® are anchored in the Heavens, part of the foregoing and ongoing unfoldment of God's Divine Plan. Part of the Greater Plan, Divine Directives Administered through the Creator's Heavenly Hierarchy, The Office Of The Christ.
Parables In Prose First Published in LightStreams - Family Of URI JournalApril 1981 © TE-TA-MA Truth Foundation - Family Of URI, Inc.
by: Revs. Drs. Grace Marama URI & James Germain URIMinisterial Unit
Recognition & Rectification
Divine Right Order®
The Balancing Factor
As We Walk This Celestial Garden
As We View This Incredible Land
We Know How Our Earthly Experience
Brought US Now To Understand
In ReViewing Our Past Soul Encounters
Heart Mind – Evolution Expands
Come Partake Of The Wisdom Of Ages
We Can Transcend Side By Side
Hand In Hand