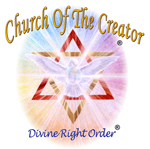 COTC Purpose & Function
"Church Of The Creator® shall provide the vehicle and vibrational grid to attract those of common understanding, desiring to bring release of Spiritual Relativity, and the Anchoring in of Spiritual Reality and Restoration of the Common (Co-Man) Law, as exemplified through the understanding and pronouncement of our Beloved Brother, Christ Jesus, "Love Ye One Another as I have Loved Ye Also."

Membership
"Church Membership" is activated when an individual recognizes within themselves that they are a "Member" of Church Of The Creator.®
The Church already recognizes "...all Thinking Thought Beings In Form" to be "...Members of the Body of the Church."
GRIDS Of Consciousness Unification
Authored Co-jointly by the Ministerial Unit Revs. Drs. Grace Marama URI and James Germain URI, 1979-1980, to bring about better understanding of the reciprocal flow of collective energy and living experiences.
This publication is intend for use in conjunction with an audio CD. Understanding of the Principles & Practices of the Church are accelerated by experiential demonstration within: